Precor 'Atlas' Display High Level Architecture
The Precor 'Atlas' Display Architecture is a time-tested platform for optimizing interactions between exercisers and technology interfaces during intense exertion. Considerations for the end user, installation technician, and fitness club operators drove an in-depth study of input and output hardware.  Interacting with an electronic console while exercising on stationary fitness equipment presents a unique set of challenges. Coordination, attention, and muscular response is focused on the exertions of the workout, not just on manipulating data in a controlled workspace. Environmental factors like noise, sweat, bottled water, glare, and cleaning fluids do their collective best to disrupt or destroy equipment.
I worked with a team of designers to understand and design solutions for these issues on the new Precor consoles, motivated by the mantra of "Fitness First". There are
three components
to the Atlas project: a situated anthropometric study; a high-level fitness console requirements concept; and an audit, inventory and definition of optimal input and output methods. 
Responsibilities as a Senior Designer spanned generative user research into head/eye position; display and control 'zones' matrix requirements; physical prototyping; reach and hand bracing concepts; and sketch, 2D, and 3D concept generation.
Primary display viewing and access during vigorous exercise needed to be inclusive of a full range of adult statures (from 5th percentile female to 95th percentile male) on all Precor cardio equipment. Unlike car seats or bicycles, the range of size adjustments that are possible with fitness equipment are limited. The display position was aligned for neutral gaze comfort, reduced interference from ambient and overhead light glare, and easy reach to the capacitive touch screen.

Sketch documentation relating every conceivable mode of machine input to the fitness environment's context. Inspirational resources were obtained from industries ranging from medical and health equipment, consumer electronics, manufacturing technology, aircraft and marine, home interior, and music synthesizers.
I designed, prototyped, and physically tested several machine control concepts to determine appropriate mechanisms for fitness equipment input. Through an iterative process of ideation, prototyping, and test evaluation, "pitch bend" style Motion Control toggles were chosen because its feedback response and fore-aft motion was found by users to be intuitive for varied exercise modalities (speed, incline, resistance, step height).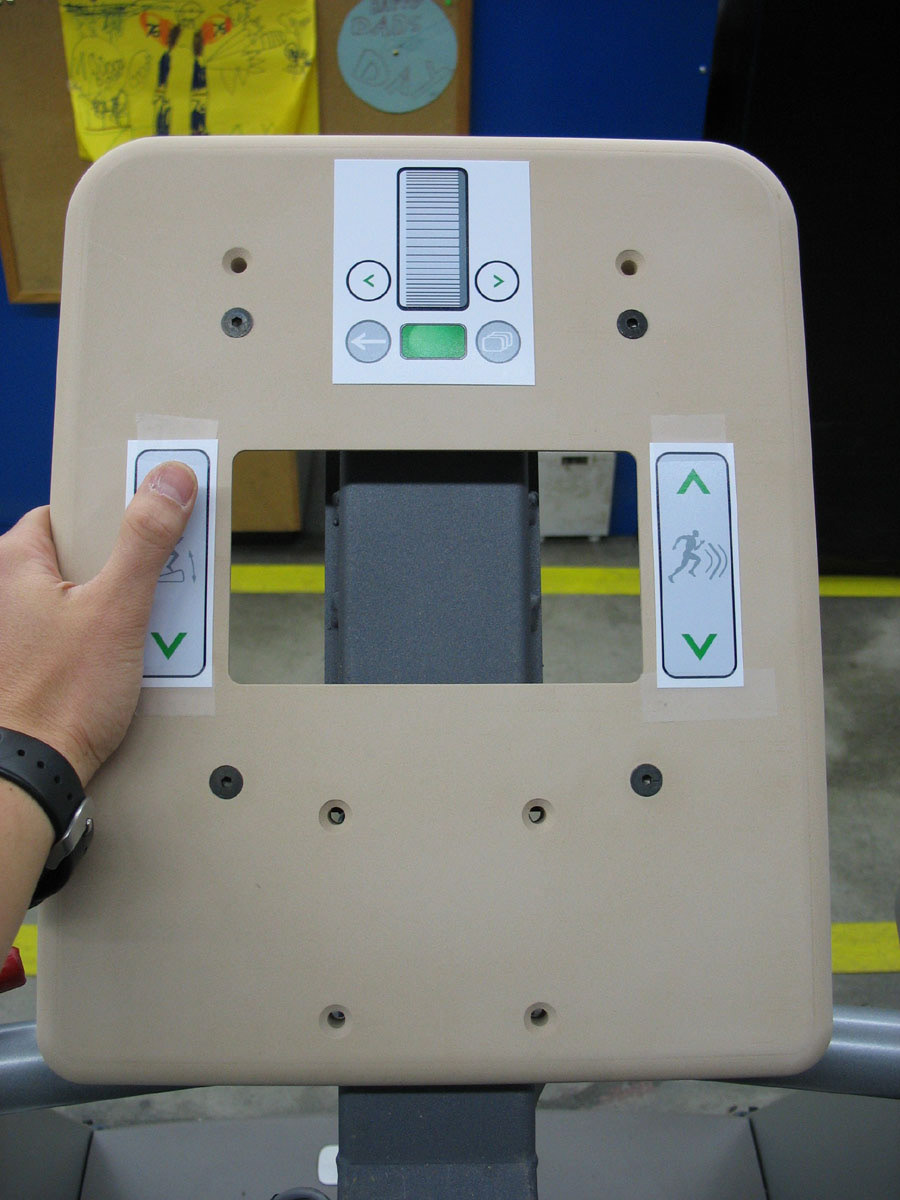 I have always been a firm believer in the utility and experimental validity of early physical prototypes. These MDF, aluminum, and paper models performed important study duties and served as vectors of communication, helping to congregate diverse groups to gain alignment.
Final Reference Illustration summarizing the salient points and best practices encountered over the course of the Atlas program.
All Precor consoles from 2009 onward have utilized this architecture.